Mango Pudding with Bird's Nest Sago
Made with no artificial flavourings and no preservatives, this collagen-rich beverage is tasty enough to drink on its own. When used as a topping for pudding, it brings a soft, jelly-like texture that enhances the QQ sago balls. Credits: Eatbook
Ingredients: 1 cup mango puree, 1 cup + ⅓ cup coconut milk or evaporated milk, ½ cup sugar, ½ cup hot water, 1 tbsp unflavoured gelatin powder, ½ cup diced fresh mango, ½ cup sago pearls, Bird's Nest, 1 litre water Total Time: 15 minutes Servings: 10 pots 1. Blitz the cubed fresh mangos with mango juice to make a puree. 2. In a slow cooker or a pot set on stove with low heat, add the mango puree, sugar and bird's nest. Let simmer for about half hour. 3. Remove from heat, add cooked sago. 4. Stir in evaporated milk. and when mixture has completely cooled, add pomelo and the remaining 2 cups of cubed mangos. 5. Chill before serving.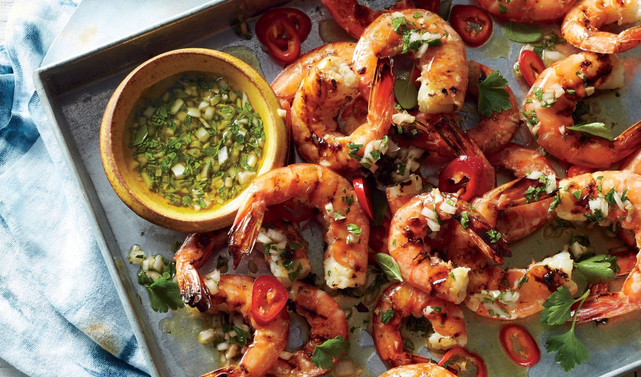 Honey-Brined Grilled Shrimp
You can use our Honey Series in three ways here! Add some sweetness to the meat, toss the honey with the brined shrimp for a good char when cooking, and drizzle it over the finished dish for more layers of flavor. Credits: MyRecipes
Ingredients: Honey, Shrimp, Kosher Salt, Ice Cubes, Vinegar, Olive Oil, Parsley, White Onion, Oregano, Garlic, Fresno Chile Total Time: 47 minutes Serving: 4 1. Devein shrimp, and remove legs from shells, if desired. (Do not remove shells from shrimp.) Combine 1 cup boiling water, salt, and 2 1/2 tablespoons honey in a large bowl; stir until the salt dissolves. Add ice cubes; stir until mixture cools. Add shrimp, and refrigerate 20 minutes. Remove shrimp from bowl, discarding liquid. Pat shrimp dry with paper towels; toss shrimp with 1 1/2 teaspoons honey. 2. Preheat grill to medium-high heat. 3. Place red wine vinegar and remaining 2 tablespoons honey in a large bowl; stir with a whisk to combine. Gradually add olive oil, stirring constantly with a whisk until well blended. Stir in parsley, onion, oregano, and garlic. 4. Arrange unpeeled shrimp on grill grates coated with cooking spray; grill shrimp, uncovered, 2 1/2 minutes on each side or until lightly charred and cooked through. Add shrimp to bowl with vinegar mixture; toss well to coat. Arrange shrimp mixture on a platter; top with sliced Fresno chile.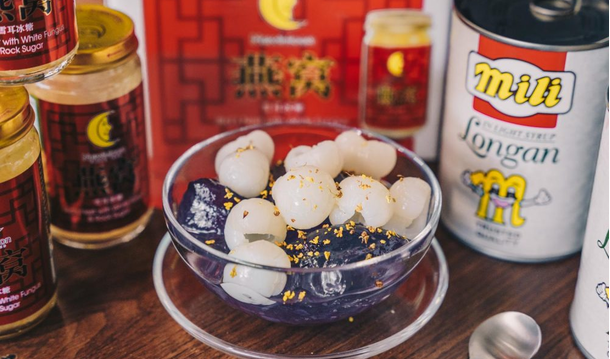 Bird Nest Butterfly Pea Ice Jelly
Ice jelly, or aiyu jelly, is a very easy dessert to make, and is a lovely palate cleanser. Instead of using lime and sugar,  cooling dessert is not only refreshing but IG worthy too! Credits: Eatbook
Ingredients: 1 packet of ice or konnyaku jelly powder, 1 tbsp osmanthus flower, 1 tbsp butterfly pea flowers, Bird's Nest with White Fungus, 150g sugar, Water, 1 can Mili Longan in Light Syrup, Ice cubes Total Time: 15 minutes Serving: 8 1. Check the amount of water needed to make the jelly according to the instructions on the back of your ice jelly or konnyaku jelly powder mix package. 2. Pour that amount of water, typically 1.5 litres, into a saucepan. Bring to a boil. When hot, add the osmanthus and butterfly pea flowers. Let it sit for five to 10 minutes so the colour deepens.  3. Sieve the mixture, add the now-blue water back to the saucepan. Bring to a boil, and add the sugar, as well as jelly powder.Remove from the heat. Whisk till no lumps remain.  4. Add the bird's nest. Refrigerate to set. 5. When set, portion out the jelly into bowls. Open the can of longans, and add a handful of longans to each bowl. If you prefer the jelly to be slightly sweeter, add some of the canned syrup. Serve with ice cubes, though this is optional.
Crispy Honey Soy Tofu
Whip up this healthy recipe using our Pure Honey. Gorgeous golden tofu pillows with soft fluffy interior, topped with delicious sticky glaze made from pan-frying. This dish is the perfect balance between sweet, salty, tang, and spice! So simple, yet so good. Tofu lovers, you are in for a treat! Credit: Delishar
Ingredients: Firm Tofu, Dark Soy Sauce, Honey, Vinegar, Garlic, Lemongrass, Oil, Cilantro, Fried Shallot Total Time: 15 minutes Servings: 4 1. Dry the tofu in kitchen towel then pan fry over medium heat until golden brown on both sides. 2. Set aside and in a saucepan, add 1tsp of oil and sauteed lemongrass and garlic until its starts to turn golden brown 3. Pour in dark soy, honey, vinegar, and chilli 4. Give it a stir, and lower heat to simmer. Allow it to thicken (Sauce will thicken further when cooled) 5. Drizzle sauce over tofu just before serving and garnish with cilantro and fried shallot.